I had one specific thought that kept coming up in my head while watching the Duke-Virginia Tech game. It wasn't that I loved watching this team play as my last post stated. It wasn't that I was extremely disappointed in this team for letting an inferior opponent come into Cameron and nearly win. I kept thinking to myself that I wasn't that surprised with how this game was going. This Duke team has reached a level I have literally (Rob Lowe reference) never seen before.
I expected the 1999 Duke team to make the Final Four and would have been shocked if they would have lost in one of the first few rounds. I expected the 2007 Duke team to lose early in the tournament, and would have been surprised if they made it even as far as the Elite 8. This Duke team on the other hand could pretty much do anything, and I wouldn't be surprised. I doubt they will lose in the 1st round, but beyond that anything is else is possible. Lose in the 2nd round to a team like Uconn? I could easily see that. Make it to the Final Four? I can see that happening as well. Has any other Duke team had a greater difference between their ceiling (defeating Kansas, Michigan, UNC, Michigan State) and their floor (NC State, Miami of Florida, Virginia Tech games)?
I'm sure where the season goes from here, which can be kind of refreshing in a way. Last year was disappointing since Duke had a team that should have repeated as national champions. Previous years it was almost expected that they would lose to a team like West Virginia or Villanova. It isn't even March yet and I am already a little numb to Duke's season. In year's past a banked in three like the one Virginia Tech hit with a little over a minute to go would have produced a strong reaction from me. This year it just seemed normal.
I'm looking forward to the UNC game this Saturday as much as anyone can look forward to something they expect will go poorly. UNC is a better team and Duke stole the win the first time around. My ultimate utopian hope is that Duke can beat UNC on Saturday, but assuming that doesn't happen then next best hope is that a team like UVA or Florida State can beat UNC in the tournament. If that happens then I can see Duke winning the ACC tournament, which should be enough for a #1 seed. For anyone who thinks that if UNC wins the ACC regular season then they should automatically get a #1 seed then I think they might want to look at who UNC has defeated this year. Below are the top 10 wins for UNC plotted against the top 10 wins for Duke. (Top 5 are called out with teams and the rankings used are the RPI rankings on CBS Sportsline.)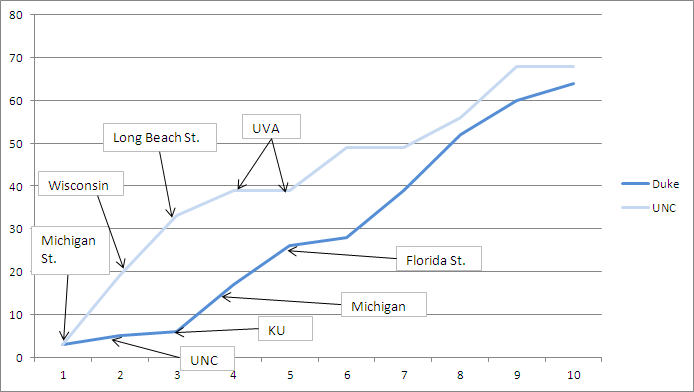 The difference between who UNC has defeated compared to Duke is even more pronounced when you just look at neutral/road victories. For UNC to get a #1 seed over Duke they need to win their final two regular season games and the ACC tournament. Anything short of that and I can see Duke getting the #1 seed.
Regardless of whether or not they get a #1 or #2 seed, I have no idea how Duke is going to do in the tournament. Part of my expectations will be determined by the who they draw, but really with this Duke team it almost doesn't matter who they play, but rather how they play. It sounds cliché to write this, but I really believe that with this Duke's team anything can happen.